Special Programs
We're proud of the programs we are able to offer our students. It's only through the dedication of our awesome teachers and the support of our outstanding parents that we are able to provide these great opportunities. This page will give you an overview of what we have to offer. Please contact anyone in our office if you would like more information about any of these programs.
Right at School Program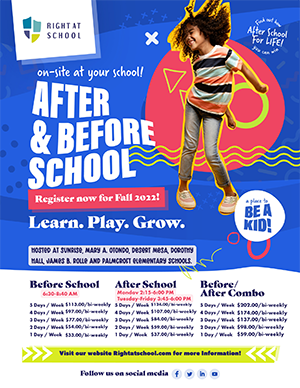 Do you have to be at work before your child starts school? Do you have to work later than your child gets out of school and you don't want him/her going home to an empty house? Do you just want your child to be involved in enriching after-school activities rather than sitting at home watching TV? We have the perfect program for you! Our students can join Right at School and be involved in planned and well-supervised activities. They are welcome to come before school, after school, or both. The activities are based on the developmental needs of the children and are enriching and educational. Children may also choose to join mini-clubs. We will set aside time each day when the children will have time to do their homework and can even receive help with it if they'd like it. And of course, well-fed kids are happy kids, so we'll also give them snacks. Right at School is open from 6:30 a.m. until 6:00 p.m. One to five days/week registration is available. Please contact Right at School Director at (855) 287-2466 or visit Right at School's website for more information on pricing and how to get your child involved with Right at School.
Special Education
We are happy to provide special education services to all of our students that meet Arizona's eligibility criteria. We serve students in several special education categories including: Learning, Speech, Occupational, Physical, Emotional, and Behavioral. We want our students to receive services in the most appropriate and least restrictive environment. This may include pullout, itinerant, and consultation services. We will be sure that each student receives instruction according to his/her Individualized Education Program. Please contact us if you have questions or would like your child evaluated.
Otondo Choir and Honor Choir
Otondo choir is a performance group for fourth and fifth graders who love to sing. There is no cost and no audition necessary to join the choir. Otondo choir meets Tuesdays and Fridays at 8:15 a.m. throughout the school year. The choir performs at school functions and has opportunities to perform in the community.
Honor choir, sponsored by the Yuma County Music Educators Association, is a selected small group for fourth and fifth graders who are in choir. Membership is by audition and music teacher recommendation only. The honor choir practices more difficult music on their own and then rehearses with other honor choir students throughout the county for one group rehearsal and a concert. The honor choir auditions process starts in January with a concert in April.
Elementary General Music
We all know how important music is to our children. Our music program is a great way for children to express themselves and have a great time as well!
Drama Club
The Otondo drama club is open to students in second through fifth grades to audition for a part in the upcoming production. This year, auditions will take place TBD. Students choose the show they will perform and then have the production in January or February. Practice is two to three days a week after school!
Art Club
Art club is for students who enjoy art and crafting. Various projects and activities take place throughout the year. We help with the decorations for the Christmas program and talent show. We also learn origami, painting, and other projects geared towards small groups of committed students. This club is for fourth and fifth grade students.